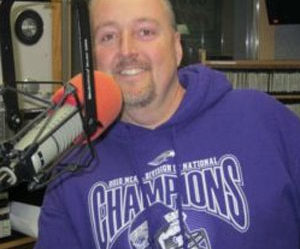 Hurricane Jerry
Saturday mornings 6a-12p
Why did you go into radio?
My first passion was music from all different genres. I really enjoyed and grew up listening to WLS in the 70's. Really enjoyed their personalities mixing in artist like Foreigner, Hall and Oates, Stevie Wonder and The Doobie Brothers.
What do you enjoy doing outside of Radio?
This is a silly question, haha! Everyone knows I love the Outdoors. Especially fishing as I host my own fishing segment on Iron Country called The Fishin' Hole every Saturday morning at 7:20am. I also enjoy gardening and I love watching sports.
Who are your favorite country artists?
So many…really my 4 main influences are Eddie Rabbitt, Ronnie Milsap, Earl Thomas Conley and Waylon Jennings. I'm also a huge fan of Elvis Presley too.
What artist do you wish you could see in concert past or present?
I have to say past….Waylon Jennings, present….Cody Jinks.
What would your last meal be and what would you wash it down with?
T-Bone steak with an ice cold beer!
When they make the movie of your life, who plays you?
Will Ferrell.
What is your favorite radio memory?
Meeting my country music idols Earl Thomas Conley and Ronnie Milsap. The other would be interviewing my fishing idol Al Lindner. The last one would be doing overnights as the Overnight tag team with Big Red back in the late 80's on WJVL. We had a lot of fun!
Message for the Iron Country Family:
I'm very proud to be a part of Big Radio and passing along my passion of Genuine Country and fishing to our listeners and advertisers.