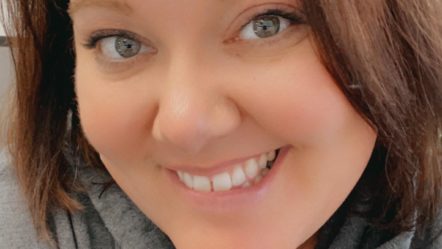 Kellie Brooks
Sunday's Noon-6pm
Tell us about you:
I like long walks on a beach and sunsets.. Oh wait! For real – I am a mom, wife, daughter, aunt, and friend who loves my people fiercely! I grew up in the booming metropolis of Johnstown/Milton. I'm proud of raising my kids in a small town. Speaking of kids, I have four! Chesney and Harper are my girls, and Brittany and Conner are my bonus kiddos! My husband Scott and I got married in the middle of a pandemic, so we definitely like to keep things interesting! We love to visit casinos and just getting in the car and see where we end up! We bought a house this last year, and have lots of projects that we're completing around it. It's definitely home tho!
Why did you go into radio?
A good family friend and my original mentor, Bruce Slater was on WJVL back in the 90's, and I always thought it'd be cool to be on the radio. He introduced me to Ken Scott, and the rest is history. I've always had an appreciation for music. I used to record the songs onto cassettes while listening to the radio when I was a kid! I've been on air for going on 22 years this year! Did I mention I started when I was 5?! I swear! 🙂
What do you enjoy doing outside of radio?
These kids sure keep us running! Chesney is getting ready to go to high school next year. She's involved in softball and track. Harper is finishing up the 5th grade. She's on the swim team. They both are involved in 4-H and choir. So, if we're not chasing kids, we have the house projects to keep us out of trouble – or at least in debt! Thankfully, I have a handy husband!
Favorite Country Artists:
I love artists from almost every genre! As for Iron Country, I'm a big fan of Johnny Cash, Willie Nelson, George Strait, Garth Brooks and Sawyer Brown! Artists that are more mainstream would have to include Kenny Chesney, Brad Paisley, Brooks and Dunn, Maren Morris and Scotty McCreary
What artist do you wish you could see in concert past or present?
I'd love to see George Strait! I've seen Garth twice – Once when I was on my dad's shoulders, and then his first show out of retirement a few years back! I'd love to see George Jones again!
What would your last meal be?
Mom's potato soup! No doubt!
When they make the movie of your life…who plays you?
Melissa McCarthy – she's funny and sassy! I like her!
Favorite Radio Memory:
I would have to say meeting Kenny Chesney at the fair after a long week! I had a slight obsession with him at the time, so to meet him in person was a huge deal!
Message for the Iron Country Family:
I'm so excited to be an official part of the Iron Country family! I've known Big Red for over twenty years, and he's always treated me like family! I'm honored to be asked to be a part of this! I have always looked up to him, and he's never let me down! I look forward to meeting you out and about in the near future!