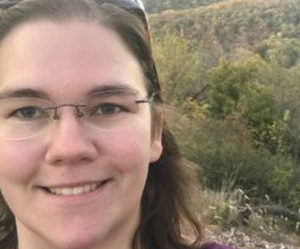 Katie Turner
 Overnights 12a-5am
I started at Big Radio in 2006 as a football game engineer. I continued working part time through high school and college, transitioning into full time in 2015. I have worn many hats in my time at Big Radio, currently those hats include working on-air on a few of our country stations and doing some accounting work behind the scenes.
Why did you go into radio?

Country music has always been a huge part of my life, there really is nothing else I could imagine doing. Not many people get to be as lucky as I am to play my favorite songs and get paid for it!
What do you enjoy doing outside of Radio?

My garden has become a big project lately, I love to cook and bake with things I have been able to grow myself. I have also really gotten into crafting lately, whether it's paper crafts, t-shirts, or glass etching, there's nothing I am not willing to try to make at least once!
Who are your favorite country artists?

Chris Young is one of my more recent favorites, I also enjoy early Blake Shelton albums and love many artists from all decades…as long as it's country, I'm in!
What Artist do you wish you could see in concert past or present:

It would be really interesting to see Johnny Cash in his early days. You see so many movies with actors portraying him, it would be cool to see him in person.
What would your last meal be and what would you wash it down with?

I love a good steak and I would probably have to finish off the meal with a Bailey's on the rocks for dessert.
When they make the movie of your life..who plays you?

Never thought about it, but my husband says Melissa McCarthy because I'm sarcastic?
Favorite Radio Memory?

Pretty much any Big Radio Christmas party…they always get wild!
Message for the Iron Country Family:

Thank you for sharing my love for true genuine country music! You make work fun!