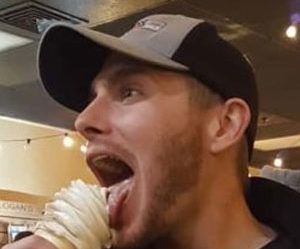 Tyler
Shift: Big Red in the Morning Show, 10a-3p Mon-Fri, 8-10p Saturday nights for "Crossroads"
I am a simple man of basic sensibilities. Don't care too much for the "finer" things in life. Just give me an ice cold High Life and a brat in the summer, and a juicy thick cut pork chop in the winter with a side of Brandy and I'm set… But in all sincerity, I'm from New Berlin, WI and grew up playing sports my whole life and fishing with my dad ("Papa Z" as you've come to know on the Morning Show) and my grandpa up at our cabin in the U.P. of Michigan. Being born in the 90's and growing up in that decade along with the 2000's, I was a huge fan of Garth Brooks, Alan Jackson, Randy Travis and "newer" artists like Eric Church, Miranda Lambert and Kenny Chesney. When Iron Country started, the more and more Red would play "The Possum" George Jones, It would take me back to when my grandpa would drive me to the driving range and he'd play a Jones cassette he had. In college at UW-Whitewater, my roommates and I would seamlessly mix up our pre-game playlist with songs from old school and modern rap, to rock music and of course a good dose of genuine country. In fact, our "going out" songs we'd spin right before heading to the bars were "Sold" by John Michael Montgomery, "Chattahoochee" from Jackson and the ultimate drinkin' song as we called it, "Callin' Baton Rouge."
Why did you go into radio?
Quite frankly, I sorta I had and still carry a personal goal to never have to dress up for work, so anything business related or "professional" is kind of out of the question. Hence why I rock Crocs and socks every day to work and sometimes even forget to put on my pants before walking out the door…
What do you enjoy doing outside of Radio?
I pondered this question for roughly five minutes because I didn't want to say outright "DRINKING!" But everything I came up with involves that essentially. I love tailgating before Packer, Badger and Brewer games. If I'm not attending games, I want them on TV. Concerts have been a big part of my life over the past four years working here for sure as well. Happy Hours, hangouts and hangovers too. It's hard being good buddies with Big Red and our boss Ben and not getting a near lethal dose of all three.
Who are your favorite country artists?
First and foremost, being a child of the 90's, Garth Brooks tops the list. "That Summer" is my favorite song of all time. I've seen Alan Jackson in concert double digit times in multiple states. Randy Travis is close to the top as well as Charlie Pride, Merle Haggard and I love the Bakersfield sound of Buck Owens. My favorite newer-age artists include Tyler Childers, Charles Wesley Godwin, Whitey Morgan & the 78's, Tennessee Jet and getting rowdy with brother Craig Gerdes' band.
What artist do you wish you could see in concert past or present?
Cash or Merle. Waylon is on the list too. Also I think a listening room type show with Patsy Cline and Loretta Lynn would be life changing.
What would your last meal be and what would you wash it down with?
Anyone that has ever seen me eat knows I can scarf it in and pack it down. So first course would be a simple salad, followed by appetizers of cheese curds and chicken wings. Then a big ol' plate of grilled pork chops stuffed with mushrooms and asparagus, side of some mac-n-cheese, green beans with bacon and maybe an additional side entrée of ribs. Now if I'm by an ocean, this changes to include lobster and shrimp cocktail but I had to stick with my roots. Chasing it all down with a milkshake or Brandy Alexander. Dessert includes ice cream and cheesecake. Maybe some cookies too.
When they make the movie of your life, who plays you?
I'd hope someone super good looking, but my best friends and college roommates call me Doug Heffernan, so probably Kevin James.
What's your favorite radio memory?
Too many to really jot down. All of our Tavern Tours of course, cooking up and eating breakfast every Friday morning in the studio, and all the stupid stuff we get away with saying over the air too. But ultimately my favorite memory may have been for our third anniversary we had a huuuuuge breakfast complete with Hurricane Jerry frying up fish in our parking lot, a loyal listener smoking up two racks of ribs, a local bar bringing in beer and bourbon samples to drink and donuts from our salesman Tom. God was extra good that day!
Message for the Iron Country Family:
When we say you are family, WE MEAN IT! It's not just a line we utter over the airwaves. The amount of support that we have received from not only our local sponsors, but YOU the fans and listeners is something I thank my lucky stars for every single night. I pinch myself at our Tavern Tours when I see the crowds. At concerts I truly love talking with those of you that I know, and welcome all that I do not. If you see any of us out and about in town, say hello! None of us bite. Join us for a happy hour on Friday's.  All of us at Iron Country are indebted to you, the loyal Iron Country family member, for all of your love and support. Keep on listening and keep on keepin' it country! Genuine country music fans will always have a home with Iron Country.