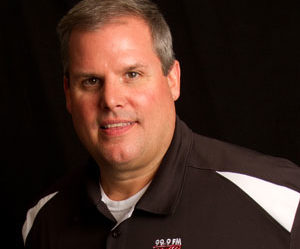 Tim Beggs
Afternoons 3p-7p
I grew up in Rock County. Attended St. William, Franklin Junior High & Parker High School in Janesville. My parents were Bob & Rita Beggs. I'm in the middle of 7 children, so there was never a dull moment growing up!
Why Radio?
It all started as a kid listening to great stations around the Midwest on my transistor radio. I officially began my radio career while in college at Montana Tech.
What do you enjoy doing outside of Radio?
I love playing golf. Like most people, I wish I had more time to play. Grilling is also a passion of mine. Medium rare or well done?
Who are your favorite country artists?
Do you have a few minutes? Hank, Willie, Merle, Johnny, George, Loretta, Vern, Waylon, Dolly, Patsy, Buck, Conway, Kenny, Dwight, Charley, Marty, Faron, Don, Tom, Elvis, Lefty, Emmy Lou, Porter, Roger, Ronnie, Glen, Ernest, Tammy, Ray, Webb, Townes, Steve, John, Rodney & Dave………….just to name a few!
What Artist do you wish you could see in concert past, or present?
Elvis & The Highwaymen
Last meal and drink?
I'll try the brick oven pizza, cheeseburger with fries, bratwurst, corn on the cob, oysters on the half shell, porterhouse steak, fried chicken, baked beans, tacos, fajitas, enchiladas, meat loaf, shrimp, roast beef & gravy, lasagna, bacon, eggs, toast, sausage, cheese, onions, wings, red beans with rice & crawfish etouffee. I'll wash it down with chilled tequila, bourbon, & a cold beer!
When they make the movie of your life…who plays you?
Yakov Smirnoff
Favorite radio memory?
Interviewing Evel Knievel while playing a round of golf. (true story!)
Message for Iron Country family?
Big Red had me take the Iron Country oath with my right hand over my heart, and the other on a stack of Merle Haggard albums…….I take this stuff very seriously. I'm humbled to be considered part of the Iron Country Family. Let's get after it!