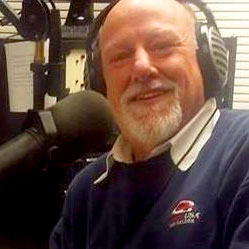 Fletcher Raymer
Saturday & Sunday 12p-6p
I grew up in Northern Wisconsin. My Father was an artist and a musician. I taught myself to play the drums by watching him. My first job in High School was playing drums with a country band at various night clubs. I was only 15 & my Mom would drive me to gigs. In 1974 the band & I was asked to travel with Dave Dudley as his "road band". I did a lot of work with Dave & many other country entertainers.
Why did I get into radio?
I got tired of traveling. Dave Dudley told me to try radio. I walked into WATW – AM in Ashland, WI. Since then I've worked at stations in Duluth. Minneapolis and Madison.
What is your favorite radio memory?
Program Director at WXCE in Amery, WI. It was a small station, but a great staff, who have all gone onto big careers in broadcasting.
What artist do you wish you could see in concert past or present?
Merle Haggard. Over the years I've had the chance to meet or perform with many artists, but never Merle.
What would your last meal be and what would you wash it down with?
Brat and a beer.
Message for Iron Country Family:
Always be kind!